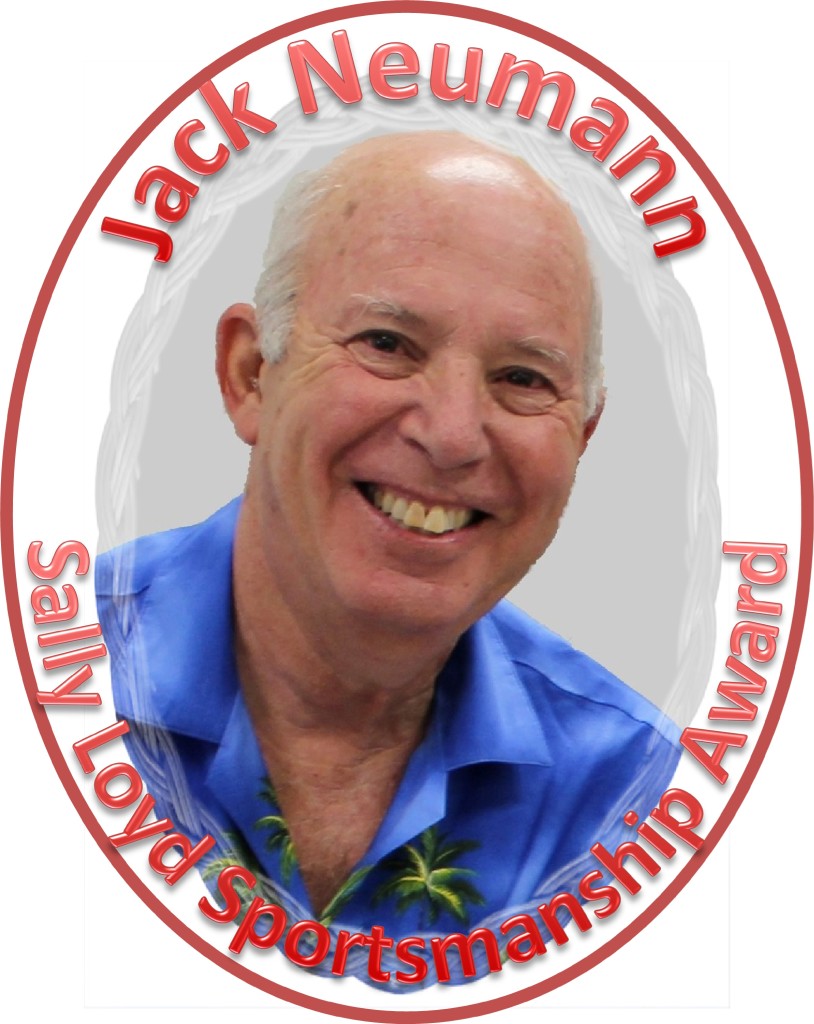 Introduction by Barbara Harrid:  I would like to make this mysterious, but when I describe the attributes of the recipient of the 2016 Sally Loyd Sportsmanship Award, I'm sure the announcement will come as no surprise:
This person epitomizes the finest characteristics of a good sportsman — contributes to the enjoyment of all players; willingly plays with anyone, often sacrificing his own partnership arrangements; gives much time, attention, and devotion to this Unit (not only the game, but the building and supply needs.)  And even though he is not Events Chair, he, with an able assist from his wife, Benita (or, the other way around) often executes the events.
He makes guacamole that is incomparable and "disappearing" brownies.  He makes the boards for all the games.  He opens/closes/arrives early/stays late… Sadly, he is often un or underappreciated.. Nonetheless, he is kind, considerate and well-deserving.  He is ___________________ Jack Neumann!
.
Please visit the News Items page concerning social bridge players wanted in Horizon.
Welcome to the www.elpasobridge.com website!  You should be able to easily move from page and page with our updated, user-friendly format.  Please note as you go from page to page on our site, the banner at the top changes to various sites in our city.  (The header will not change when depicting a specific holiday).
Headers include a variety of views of the University of Texas at El Paso; poppies on the east side of the Franklin Mountains; city lights – nearly sunrise looking east from Rim Road Lookout Point; Ysleta and San Elizario missions; scenes at Ft. Bliss; the Thunderbird (red rock formation) lying over three ridges on the west side of the Franklin Mountains; several photos of downtown El Paso, one featuring an amazing shot of the El Paso County Courthouse reflecting the Franklin Mountains; El Paso's Union Station;  the western view of the Franklins from near Sunland Park Mall; the Westin Hotel with the Dome Grill; Southwest University Park – the Chihuahuas baseball stadium; and the star on the southern-most face of the Franklin Mountains (southern end of the Rockies) with the lights of El Paso below.  This star was lit only during the Christmas holidays for many years and considered by most to be our holiday star.  Then from November 4, 1979, to January 20, 1981 when the 52 hostages were held in Tehran, the star was lit the entire 444 days.  After that the schedule went back to the holiday period only.  Now El Pasoans "buy-a-day" keeping it lit every evening.  A visitor upon seeing our star exclaimed, "Wow, the Star of Texas!"  And so it is… You all should come for a visit and enjoy our lovely high desert!
(Pictures in the header have been taken by:  Steve Putnicki, Victor Morales, Kathie McElroy, Brent Clarke, and Peggy Craig)
♠♥♣♦♠♥♣♦♠♥♣♦♠♥♣♦♠♥♣♦♠♥♣♦